………………………….. Advertisement …………………………..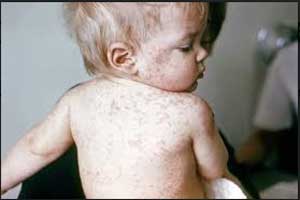 Measles infection may erase immune memory and increase future infections risk, researchers have found.
Measles virus attacks the cells that serve as the immune system's memory, wiping out established resistance to disease. However, these immune system effects were not observed in infants vaccinated against MMR (measles, mumps, and rubella), but were confirmed in measles-infected macaques. As much as three-quarters of a person's immune memory can be wiped out by the "amnesia" caused by the measles virus, the researchers reported in the journal Science.
Measles virus is directly responsible for more than 100,000 deaths yearly. In addition to this Measles is associated with increased morbidity and mortality for years after infection. Many of the deaths are caused by secondary infections because the virus infects and functionally impairs immune cells. The researchers have tried to analyse the reason and tried to find whether measles infection causes long-term damage to immune memory or not.
During a measles outbreak in the Netherlands, researchers measured antibodies against common viruses among 77 unvaccinated children both before and 2 months after they were infected with measles. After severe cases of measles, patients lost a median of 40% of their preexisting pathogen-specific antibody repertoires. Children with mild cases lost 33%.
Controls who didn't develop measles retained about 90% of their repertoires. In addition, children who had been vaccinated against measles-mumps-rubella actually saw increases in their antibody diversity.
………………………….. Advertisement …………………………..
Using a blood test called VirScan, Mina et al.comprehensively analyzed the antibody repertoire in children before and after natural infection with measles virus as well as in children before and after measles vaccination. They found that measles infection can greatly diminish previously acquired immune memory, potentially leaving individuals at risk for infection by other pathogens.
The authors conclude: "These findings underscore the crucial need for continued widespread vaccination."We did look at kids who'd been vaccinated with the MMR [measles, mumps, rubella] vaccine, and we did not see the same problems," they said. "The measles virus is much nastier than we realized, and that makes the vaccine that much more valuable."
For further reference log on to:
………………………….. Advertisement …………………………..
Dr Kamal Kant Kohli-MBBS, DTCD- a chest specialist with more than 30 years of practice and a flair for writing clinical articles, Dr Kamal Kant Kohli joined Medical Dialogues as an Editor-in-Chief for the Speciality Medical Dialogues section. Besides writing articles, as an editor, he proofreads and verifies all the medical content published on Medical Dialogues including those coming from journals, studies,medical conferences,guidelines etc.
Before Joining Medical Dialogues, he has served at important positions in the medical industry in India including as the Hony. Secretary of the Delhi Medical Association as well as the chairman of Anti-Quackery Committee in Delhi and worked with other Medical Councils in India. Email: editorial@medicaldialogues.in. Contact no. 011-43720751
To know about our editorial team click here
Source: Science 
………………………….. Advertisement …………………………..